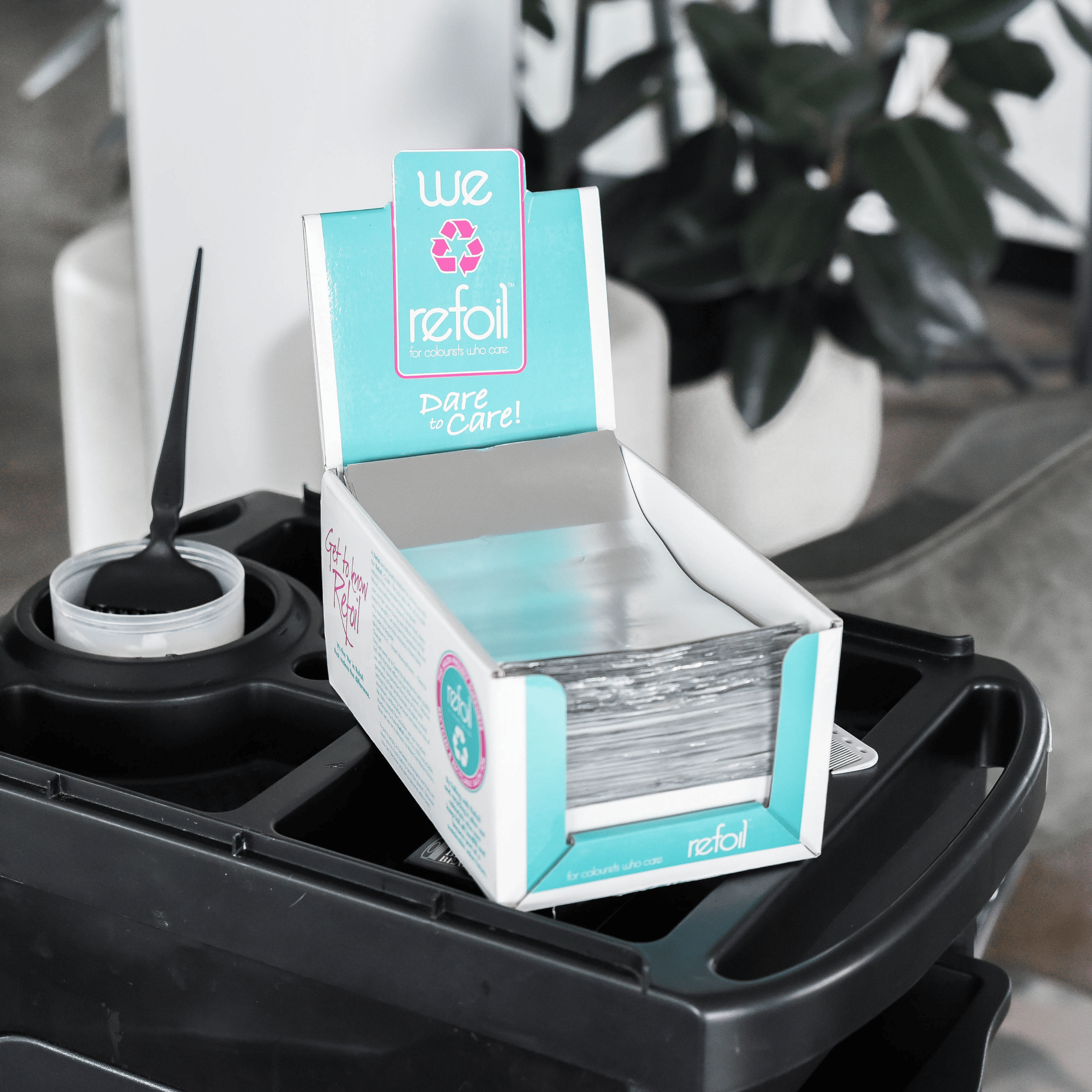 Description
Refoil pre-cuts are a real treat for the colourist who cares about quality, style and the environment. This premium quality recycled pre-cut aluminium pre-cut foil comes in a stylish and practical box that fits any salon trolley. Covenience and sustainability at your fingertips!
Say goodbye to foil cutting, foil folding and foil wastage!
Specifications
Dimensions: 20cm x 12cm + 1.4cm fold
Thickness: Premium grade (18 microns)
Number of sheets: 1401 sheets
Colour: Silver
Comes in a display box
Package options

| | |
| --- | --- |
| Options |  Price per box |
| Individual box | $40.95 |
| Box of 6 | $35.95 |
FAQ'S
Is Refoil 100% recyclable?
Yes! It can be recycled over and over again without loss of properties.
How big should I make my crushed Refoil balls?
They should be at least as big as tennis balls. In hairdressing terms, that's roughly five to eight standard-sized (20cm long) foils.
What happens to Refoil when it goes into the mixed recycling bin?
When you have crushed your used Refoil into balls your local council will collect the recycling bins and send the mixed content to a local sorting centre. There, the aluminium foil balls will be separated from other recyclables and sent on for reprocessing into new aluminium.
Can I recycle Refoil that's covered in colour or bleach? What happens to the chemicals in the recycling process?
It's best to rinse the foil first, as this makes the recycling process go smoother. During the melting process the chemicals are separated from the aluminium foils and disposed of safely.
Shipping
Orders placed before 1pm shipped same day.
Estimated shipping times per state:
QLD, NSW & ACT 1 to 3 business days
VIC 2 to 4 business days
SA & TAS 3 to 5 business days
WA & NT 5 to 8 business days
Moving from cotton towels to hygienic eco disposable towels may seem like a daunting prospect and one that isn't made any easier by the number of eco salon towels brands on the market. I chose Zimples because the waffled texture gives a beautiful, light and soft feel while also being very absorbent, plus the size is perfect for all salon services.